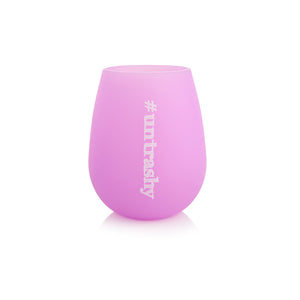 Squishy un-smashable silicone wine glass
Sale price Price $6.00 Regular price $9.00
Tax included.
Our causes
Did you know we are actively involved in different grassroots projects working for positive change?
Save Our Coast is a community not-for-profit dedicated to protecting our marine animals and the coastal ecosystem. 
Save Our Coast is currently advocating to stop oil and gas companies conducting deadly seismic testing and drilling off the NSW coast.
Wholesale rates
Are you affiliated with a bar, cafe, restaurant or gift shop who may like to stock our products? 
The concept is that you can feel good about helping the environment, while also making a profit. It is also a statement to align yourself with the movement of conscious consumers sweeping Australia.
Get in touch via email for our attractive wholesale rates.
Sustainability Consulting
Looking to reduce the environmental impact of your business or event? #untrashy can assist with a waste-audit. We provide recommendations and can connect your business with environmentally-focused product and service providers. Reach out for more information
Partners
Crooked Compass is a boutique tour operator uncovering the world's best kept secrets through small group touring and customised itineraries. Created to inspire and educate through culturally immersive experiences and the power of storytelling, itineraries offer travellers a new perspective on a deeply personal level. Crooked Compass strategically and sensitively integrates local communities, aligning with their values and protecting the authenticity of their culture.
Contact us
Change is happening. Join us!
Do you have an organisation advocating for sustainable solutions? Do you have an eco-friendly product that you would like us to promote? Perhaps you just want to get in touch, provide some feedback or share an idea?
Follow us on Instagram
untrashy_
or get in touch via email:
hello@untrashy.com
There is no Plan B because we do not have Planet B.
You cannot get through a single day without having an impact on the world around you. What you do makes a difference and you have to decide what kind of a difference you want to make.


Who needs a straw anyway!?