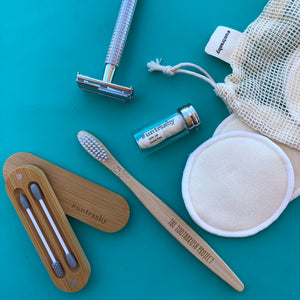 Body bundle
Sale price Price $72.00 Regular price
Tax included.
Valued at over $100 plus free shipping!


Perfect gift pack for eco-minded people who care for their body and for their planet.
Contents:
- 5-pack hemp-cotton make up wipes in wash bag
- stainless steel butterfly safety razor 
- 5-pack razor blades
- 2-pack reusable medical grade silicone #u-tips in bamboo case
- 30m silk dental floss in refillable glass jar
- bamboo toothbrush by The Toothbrush Project (profits donated to dental programs in low income settings).